1
Week 3: My Career with ToH Takes Off...
Posted by ddavid , 03 December 2011 · 495 views
Take On Helicopters
toh
blog
Well, week 3 was hindered by the DCA World Rally, so this is really week 4, but we'll ignore that!
Getting into ToH, now - the Flight Dynakics are still a bit problematic and I'm having to rely on the 'Hover' function for landing and manouvering, but, as I said before, 'tis only a game...
O.K. - my Bro', Joe, has given me a fairly simple assignment - take a camera-man out and film some whales - easy, huh? Yes, if you know where the b*gg*rs are! To help, we're in radio contact with the guy on this boat:
We just follow his instructions and, mm, shoot:
To help, there's a Map function in ToH, which has extra 'clues' to assist in finding the whales:
Time passes - and we eventually find the
third
set of cetaceans (Whassat? - Ed):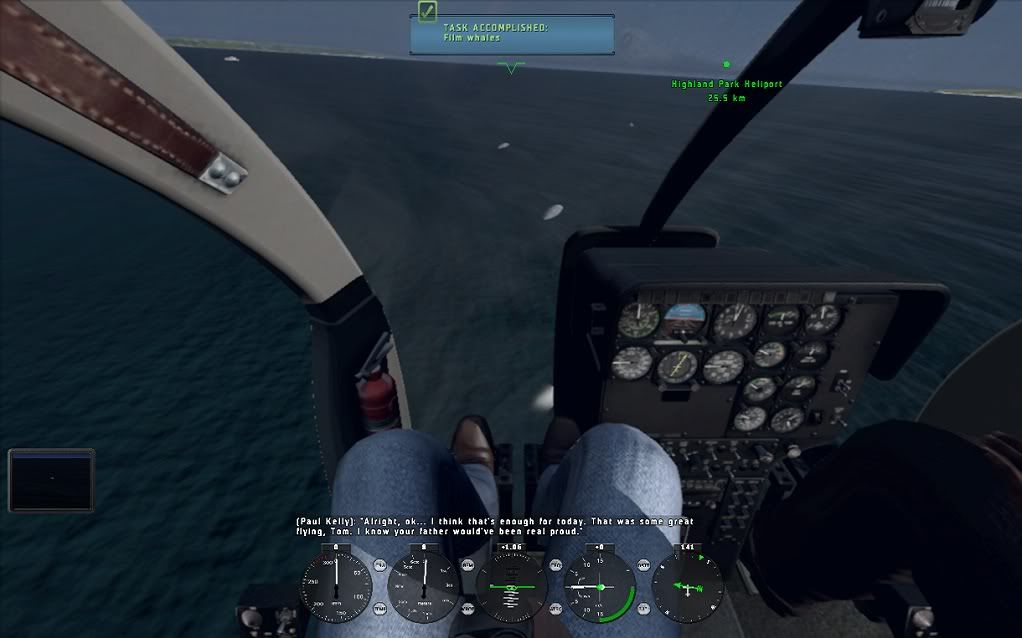 On our way back to base, I notice that the LOD-Autogen function creates 'extending bridges' - as you get near them, they get longer, and finally reach across the water: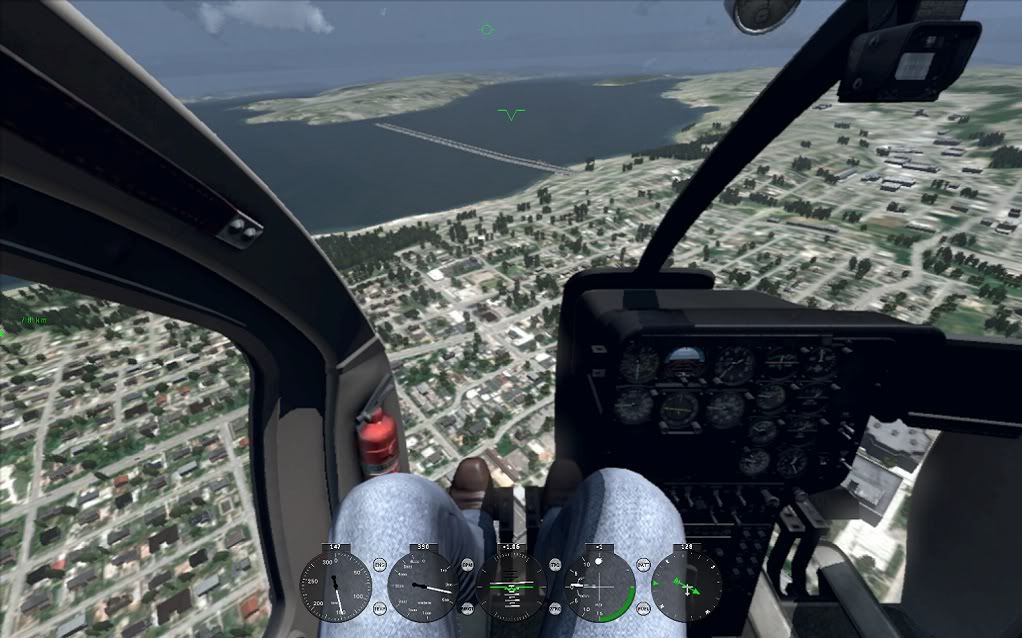 On closer inspection, I find that it isn't only the helos that hover in ToH:
Back at the base, I'm given an update by my Bro', Joe: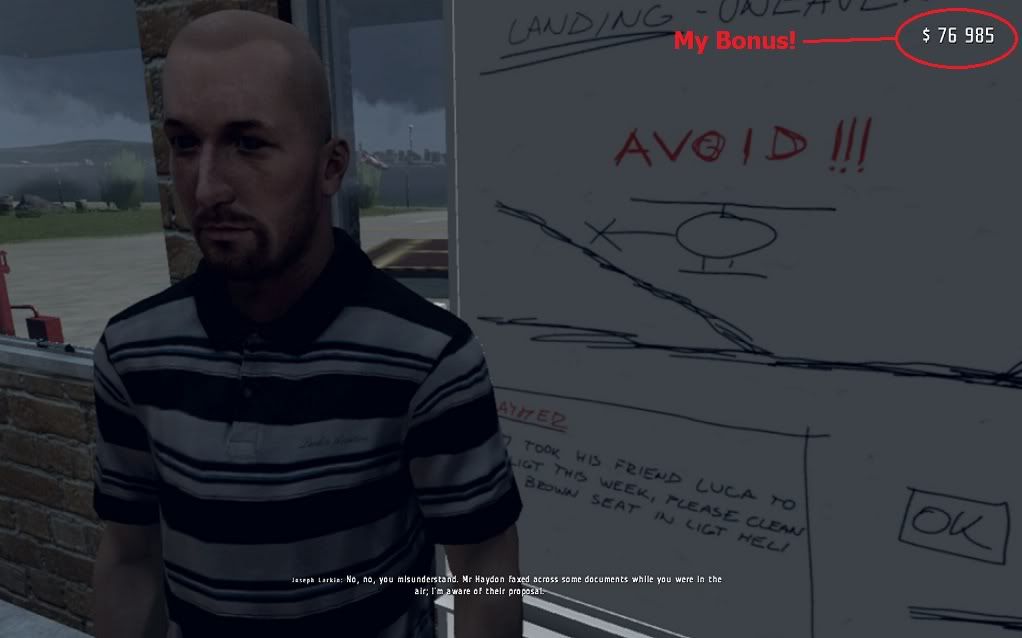 And introduced to our new boss - well, she's the representative of the corporation that has 'taken us under its wing' - although I suspect they just want to take our business iver! Notice how involved I'm getting - this is a serious business...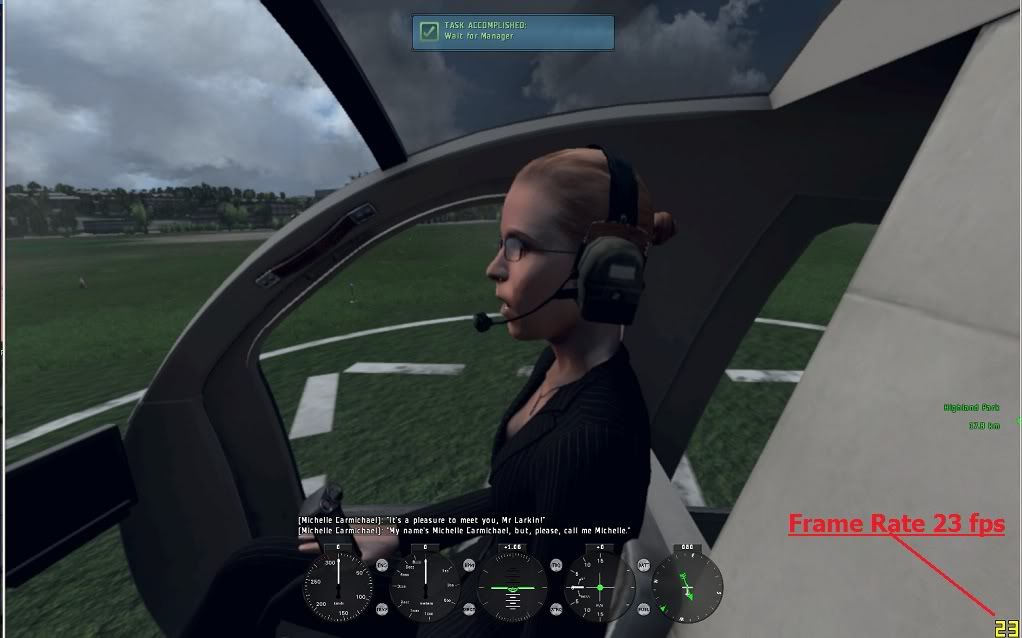 The next job is to take the CoE of the corporation on a tour of the golf clubs he wishes to entertain his guests at for the coming weekend. He's on the right, at the back, and his secretary is sitting behind me. He's an arrogant *rs*h*l* (Go on, give us a clue! -Ed) and the dialog is very snappy - poor girl:
But the flight goes O.K. and we're on to the next bit of action. Now and again, Joe has a flash-back to his time in 'East Asia', where the player has to repeat a flight from his past. Not very challenging, so far, but I expect things will hot up in that theatre of operations sometime.
So, we are progressing - not fast, but steadily. Next week I hope to look at Mission design, although I've a feeling that it may be a step too far at this stage in my learning curve. There's also multi-player, but as I'm not 100% confifent in my ToH piloting, that may be put off.
Join me next week in the next, thrilling episode of ToH - The Blog! - well, that's if I can fit it in with the DC-6 beta... So much to do and so little time, ect, ect.
Cheers - Dai.